SAN DIEGO—Remaining an employer of choice for CRE talent requires focusing on flexibility, a strong positive culture and the human touch in all areas of the organization, panelists say during the IREM Fall Conference Industry Leaders Luncheon here.
Remaining an employer of choice for CRE talent requires focusing on flexibility, a strong, positive company culture and the human touch in all areas of the organization, panelists told moderator Jana Turner, principal of RETS Associates, during the IREM Fall Conference Industry Leaders Luncheon here Friday. Marla Maloney, president of asset services for Cushman & Wakefield, AMO; Tony Long, global director of client care for CBRE, AMO; and Rick Graf, president and CEO of Pinnacle, AMO, discussed best practices for hiring the right people, training them and retaining them for the long haul.
To remain an employer of choice, large CRE firms must look at the newest and best practices as well as legacy practices that work, Maloney said. "It's critical for the leadership team to challenge the status quo. At our firm, we take a well-established industry and look at how to do it better."
Graf said it comes down to company culture, and his firm has three mantras: 1. Be nice to people. 2. Do the right thing. 3. Be humble, and understand your larger role in the spectrum. Keep that in perspective.
Long said when he was at Trammell Crow Co., the firm had a mantra: 1. Respect, Integrity, Service, Excellent—or RISE. "The real trick to distinguishing your company is to hold the line on all of it." He said he has learned the humanitarian way to encourage excellence is to apply "constant gentle pressure" on employees so they know what they do matters to you.
Turner said she loves to hear the panelists emphasize the "soft skills," which are a big factor forMillennials. She then asked what feedback or advice they could give to smaller firms for attracting and retaining top talent.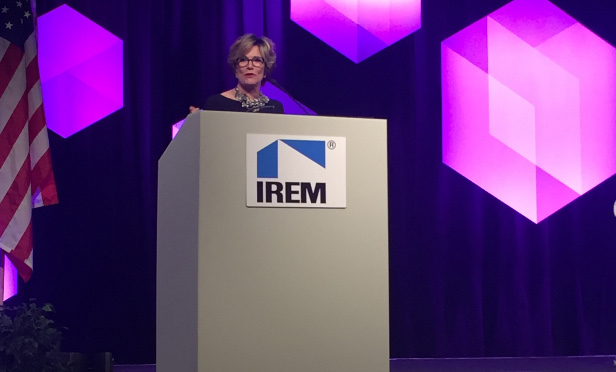 Graf said, whether the company is small or large, it's the same set of issues. "You've got to be involved in selling the dream. Believe in what you're selling and people will gravitate toward that." Knowing your advantages over other companies is also key, he added.
Long gave Southwest Airlines as an example of how to hire and retain good employees. "They hire for attitude, then train for skill. They look for employees that are fun, interesting, engaging, a leader. The different sides of our company have a distinct culture. Smaller firms have a big advantage, and if you get the culture right, it can drive growth and change."
Maloney pointed out that "you're always looking for good people, but you meet good people through good people." Her firm encourages employee referrals. "Know your brand; recruit full time and use the right resources."
Graf added that it's important to have the same message throughout the scope of the company, to "make sure everyone is singing from the same book, which can be challenging," especially when you have employees in different offices around the world. Investing in your brand and establishing what your brand stands for is key, said Long.
Turner shifted to talking about the multi-generational workforce and asked panelists if they've changed their management style and/or strategy of recruitment based on having both Millennials and Baby Boomers in the workforce. Maloney said yes. "Millennials want companies with a social conscience," so showing stock photos to them about the company doesn't cut it. Instead, her firm offers office tours that allow candidates to see the company's collaborative space, which offers a place to make connections and find commonalities.
Long spoke of his firm's Workplace360 offices, which feature free address, lots of open space and the opportunity for collaboration in all areas of the company. "People see these offices, and it looks fun; it looks interesting. These concepts are sticking and changing the workplace because of Millennials, and we will continue to see collaborators taking space in offices. Office space will be much more fungible and institutionalized" than it has been.
Turner asked how we can get more collaboration between Millennials who want open space and Baby Boomers who don't want to give up their offices. Long said long-standing ways of operating can be hard to replace; he gave the example of people going paperless: "People freak out when we say they have to get rid of their files."
Maloney said, "It's how you deliver the message." She recommends getting feedback from employees on how they like to work and allowing them to go into their quiet space. You have to offer "the best of both worlds, old and new." Graf said the interaction that takes place in kitchen spaces and other common areas is "unbelievable. We are learning and growing from Millennials," and Maloney added that the stability that Baby Boomers seek is still there; it's just manifested in a different way.
Turner talked about frontloading ideas, saying that how ideas are introduced is important, but it does take about a year for total integration of any new program. What employees value in a job is also changing. "Flexibility is becoming more of a priority than compensation. Millennials want flexibility, and Baby Boomers—many of whom are caring for elderly parents [and desire some leeway in established hours]—need it as well. Are you offering this?"
Graf said, "Absolutely—people work hard, and they make it up in the end."
Maloney said, "Our role as commercial real estate executives is to care for physical assets, but we've built a capable team. It's important to recognize that people have lives—daycare, parents, etc. In the end, they meet their objectives."
Long said clocking into an office is not as important as it once was, thanks to technology, and this has naturally driven flexibility. Cell phones can follow you wherever you go. "Our people are traveling constantly, and work is happening wherever they are." Graf said his employees are often dealing with people in different time zones, so they have to be available after hours sometimes to address problems. Maloney added that there are peaks and troughs with regard to work. "They're working hard during peak times, so you need to balance that and give that back to them by allowing flexibility during the troughs."
Turner asked what were the important skill sets that contribute to a successful real estate career, and Maloney said, "You have to understand how what you do creates value. A sense of urgency is important, and customers want service with a smile—we are in a service business."
Long said being able to map out a process from end to end, and then think about the customer experience and map that out is key. "Amazon understands this—they've figured out the retail process and boiled it down to a few key things" that matter to customers.
Graf said, "We touch people every day in a place that's very personal to them: their home. Many people in apartments are dealing with a lot of trauma (divorce, a lost job or lost home). You really have to have heart to help people in this very personal way." Long added that's it's about the golden rule, which is fundamental, and Turner pointed out that communication skills are most important when building a team to really get things done.
Turner then asked the panelists, in an industry where there is a less-than-2% unemployment rate, what's keeping employees at their firm, and what are they doing to entice them to stay? Graf said having a culture of appreciation is important. "People want to be part of something transformational; make them feel appreciated and important, and talk to them."
Maloney said most of her colleagues are on site with clients, so they don't see their team as often as they'd like, "but we have to foster a communication system where we all feel connected." Talking on the phone, having meaningful conversations with team members and writing handwritten thank-you notes is part of her M.O.
Long said his team stays connected via reports that talk about everything the company is doing, from sustainability to wellness (the next sustainability) to charitable giving to health and safety. "Employees see that you're investing in them." Turner spoke of the balance between "high tech and high touch—the personal note, the phone call, the face-to-face meeting" that are important to creating that balance.
She then asked about the characteristics, traits and competencies that have contributed to the panelists' careers and what they would have done differently. Long said passion (something you can get excited about that will drive your career forward) and perseverance are crucial: "There's always going to be some big challenge to test you, but by really persevering you'll get through some really tough times." He said he's shied away from having tough conversations sooner, so he would have done that differently.
Maloney said doing her boss's job for him got her firm there faster, and learning to be humble when she became a working new mother—was key for her. "Admit that you're part of a team that has to rally together, and recognize that people have issues in their lives." She said she learned about being a leader by being a mom, and she originally thought she wouldn't be respected by her peers if she had kids later in life. She used to send work emails at 9:30 p.m., but then realized people thought she wanted them to respond at that hour—now she writes them at night but doesn't send them out until the morning.
Graf said being a good listener and being inclusive were key for him. What he would have done differently is to adopt the biblical principles of Micah 6:8 (to act justly and to love mercy and to walk humbly with your God) earlier than he did.
During a Q&A with audience members, one Millennial asked why there are not more property-management degree programs at the college level. Long said the best education is a Certified Property Manager (CPM) designation, but panelists admitted they need to do more recruiting at the college level. Maloney said it has to be an industry evolution. "We've failed you if you haven't heard of us in four years of college." Graf said his firm tries to foster a relationship with Virginia Tech, "but we need to do more, for sure." Panelists also said more should be done to help finance the process of executives earning their CPM.